Creating local brand awareness for Fulham Road Dental
London Lites advised Fulham Road Dental (FRD) on how to create local brand awareness through a Digital Out of Home campaign in Fulham, London.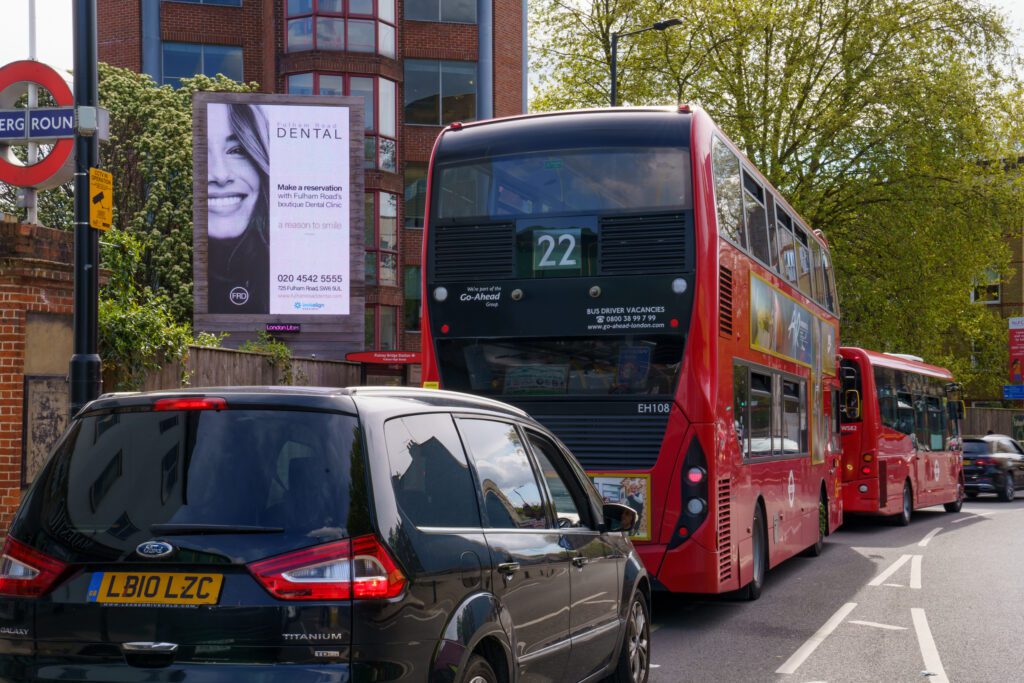 FRD is a boutique Fulham dentist set up in May 2021, focussing on providing an exceptional patient and medical experience. The business has invested heavily in technology, a warm and inviting practice, and industry-leading dentists to provide an unrivaled patient journey.
London Lites approached FRD about creating local brand awareness by advertising on their New Kings Road digital out-of-home screen.
If you think outdoor advertising is only an option for large brands, than nothing could be further from the truth. The reality is that DOOH can, and should be, part of every business's overall marketing strategy. The many benefits of DOOH include.
Creative ease – as individual ads can be produced, changed, and updated digitally in contrast to traditional billboards that require investment in 'static' creative content
The ability to select certain times of day when ads are shown to your target audience
The opportunity to run several digital ads during the day, each targeting a different customer profile with contextually relevant messaging.
Creating continued local business awareness which complements other marketing channels
"From the outset, the London Lites team were professional, helpful and exceptionally responsive to each of FRD requests. They were always happy to provide advice and ideas to help us get the most of the marketing campaign. As a start-up in the local area, they were able to advise on the various options that were appropriate for a local business like ours. The team, led by Sharon Henderson, were fully engaged throughout the planning phase of the campaign.
So often the level of customer service can drop following the initial engagement as businesses focus on new and/or bigger customers. This however has definitely not been the case with London Lites, as the high level of customer service has continued after the initial campaign. They have also been able to provide up-to-date data on how our campaign has performed. Finally, they also provide us with professional photos of our billboard campaign, which we were able to share on our social media channels. These social media posts were very well received with lots of engagement from our followers.
The standout feature of engaging with London Lites is their transparent and flexible pricing structure. There is nothing more frustrating, expecially for small business owners, as hidden costs. Sharon and the team have continued to provide support to our marketing team at no additional cost to the business.
We couldn't recommend London Lites more highly. They have an exceptionally professional team, customer service-centric approach and are a pleasure to deal with. We look forward to continuing our partnership with the team". – Fulham Road Dental Team
Visit Fulham Road Dental
Share this on Social Media
Get In Touch
To find out more about our portfolio and how we can help you connect with London, get in touch.